Zoey Boey Fru Fru (Japanese Name:Zoi Bou FRU FRU)
is a character in
Kawaii Crush
. She has appeared in webisodes and was part of the big,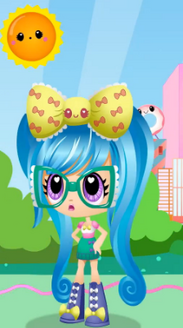 brush-able hair dolls line. Along with
Tammy Lamby Lu Lu
and
Sunny Bunny Hop Hop
.
She is a bow themed girl whose theme colors are pink, purple and yellow.
Personality
Edit
Not very much is known about Zoey Boey just yet, but what is known is that she is considered to be one of the most fashionable girls in all of Kawaii Crush World, which may imply that she's popular or well-known.
Appearance
Edit
In what can be assumed to be her real design from the webisodes, Zoey stands out for having fair skin in comparison to mostly everyone else. Her eyes are lilac worn with bright teal, bow shaped glasses with ruffles on both sides. Her watery-blue hair is about an ankle length, worn in long pigtails with hairbands, that are securing them, that curl forward at the end. Her bangs vary in length and are spiked. On top of Zoey's hair is a bright yellow bow with a pink face and tiny pink bow prints on it.
Zoey wears a pink blouse with white chest and a teal skirt with two purple, tiny bows on the side. Along with blue boots with big yellow bows at the toe, and tinier white bows going up the middle.
In doll form, most of Zoey's color scheme remains but she has some differences. These being:
Her pigtails are puffier while her bangs aren't styled the same.
Her makeup is brighter
Her bow is pink with a bunch of purple tiny bows on it.
The segment on her blouse is yellow, not white.
Her glasses and skirt are now pale, sky blue.
Instead of bows on the outer side of the skirt, there is now four in the center of it.
Merchandise
Edit
Zoey Boey Fru Fru Large size doll. Comes with a removable outfit, four small bows, one giant bow, a pair of glasses, and a bow themed hair brush.
"I <3 bows!"
"I <3 to dress-up with cute, curly ribbons from head to toe!"
"It's no wonder I <3 everything that's Bow-tiful!
Her lips are hot pink and her eyes are ocean purple.
Instead of yellow and pink, her bow is pink with a bunch of purple tiny bows on it.
Zoey's glasses are pale teal with purple spots all over them with white ruffles on the top sides.
In the beta stages of Kawaii Crush, Zoey's boots were pink and the bows on them were lime.