"The Great Outdoors" is webisode 7 of Kawaii Crush.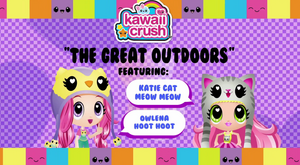 Preceded by Cotton Candy Crush
Followed by Sunny with a Chance of Rain
A bright and sunny day is a great chance to go camping! But will this perfect weather really last?
Characters
Edit
Owlena, Zoey and Katie are all sadly sitting in Katie's bedroom one dark and gloomy, rainy day. When the weather suddenly changes from rainy to sunny, they immediatly make plans to make the best of it by going on a camping trip outside to enjoy the beautiful nature that surrounds them. Even Katie's cat saw a butterfly when it smiled!
Later, when evening comes, the girls are roasting marshmallows by a small campfire when they realize it's dark now. Owlena picks up a marshmallow from the box that Zoey carried and throws it at her and Katie. But their marshmallow roasting turns into a marshmallow fight!
The girls also tell scary stories by making shadow puppets using their hands. Unfortunately Katie's cat got scared by a monster before it laughed on the grass! When a shooting star falls into they night sky, the girls begin to make their wishes come true while stargazing until... Uh-oh! Owlena's tummy began to rumble while Zoey and Katie are starting to get hungry when they've run out of food which is remedied by Owlena, who has in idea. She picks up her phones and calls in Holly Molly Shop Shop, who delivers a quick meal to the girls. Oh, no! It turns out they've just been camping right outside the Hyper Happy Mall!
When the girls tuck in to their burgers, a raincloud begins to rain all over them by making them wet. No one hasn't brought an umbrella or a raincoat, but Owlena reveals that she brought Katie's blow up tent and they quickly run inside, this time in a much better mood.
This is Owlena's first official webisode role.
Katie Cat Meow Meow narrates this great adventure.
Katie Cat's Kitty: Butterflies (Cho)