Sandy Shell Surf Surf (Japanese Name: Sandi Sheru Safu Safu)
 is a mini
Kawaii Crush
that is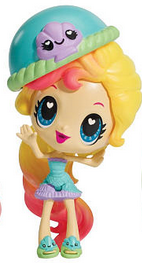 part of the "Bubbly Beach" Mini line.
She is a seashell themed girl whose theme colors are blue, green and purple.
Personality
Edit
Sandy loves collecting seashells all over the beach and when she finds some different ones or ultra rare ones, she'll just need to keep on collecting more and more and more.
Appearance
Edit
Sandy is a fair-tan skinned girl with blue eyes and blonde hair that is pulled back into a ponytail, curving towards the left side, with red highlights on her bangs and at the end of it. She wears a blue hat with green around the bottom and a purple seashell on it.
Her outfit consists of a blue dress with purple on the bottom with a pair of green sandals with blue shells over the toe.
Sandy has a pet seahorse that is pale pink with light purple detail on its fins and the top of its head. It loves to squirt water the most, but its favourite food is little fishes.
Merchandise
Edit
Sandy Shell Surf Surf - Comes with purple shell shaped glasses, a teal headband with a purple shell on it, her pink seahorse pet, and a blue and green surfboard.