Netty Betty Creamy Crunch (Japanese Name:Mojo Beti Kurimi Kuranchi) 
is a mini
Kawaii Crush
that comes with her best friend, 
Shelly Jelly Jam
in a twin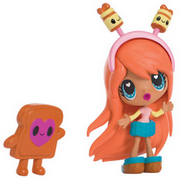 pack. 
Her theme object is a peanut and her theme color is orange-brown, pale pink, pale yellow, and bright blue.
Personality
Edit
(no personality info has been provided just yet!)
Appearance
Edit
Netty Betty is a light brown skinned girl with very bright blue eyes and long flowing, soft and right-sided orange hair with bangs curving to the right on her forehead. Her lips are fuschia pink. On her head, Netty can be found wearing a pale pink headband with white and brown jars on the ears, a pale pink wrap with a peanut clasp, or a big peanut shaped eyemask.
Her facial mask is brown.
Netty can normally be found wearing a pale pink tank top with long pale yellow sleeves, a bright blue skirt, and blue and brown clogs slippers.
Her alternate outfit is an orange-brown dress with lines going down it, to make it resemble a peanut. The shoes are brown slippers with toast at the toe and very pale yellow socks.
Merchandise
Edit
Netty Betty Creamy Crunch and Shelly Jelly Jam BFF Pack. Includes many slumber party, bed time accessories.