Morning Glory Go Go (Japanese Name:Asagao Go Go)
 is a mini
Kawaii Crush
that comes with her best friend, 
Luna Lite Night Night
in a twin pack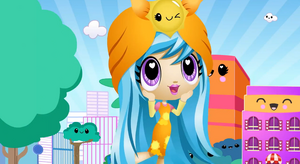 She is a daytime themed girl and her theme colors are orange and yellow. 
Personality
Edit
She loves morning! And she loves having sleepovers with her friend Luna Light Night Night.
Appearance
Edit
Morning Glory is a fair-tan skinned girl with bright violet eyes and soft pink lips. She has long, watery iced-blue right sided hair with spiked lining and bangs, curving to the right side of her face. On her head, she wears an orange bandana wrap with a winking sun keeping it shut.
Morning Glory wears a very colorful and warm dress. Consisting of orange with peach-pink faded coloring at her chest and upper arms, and pale yellow sleeves. Printed on the dress are light orange clouds and bright yellow suns. For shoes, Morning Glory wears dark blue flats with socks and happy faced suns on each toe.
Included in the doll set Morning Glory also wears a white facial mask, a rainbow themed eye mask, a white headband with a rainbow on one antennae and a sun on the other. Also note how much darker her eyes are. She wears two dresses not present in her webisode. One consists of a hot pink T-shirt with pale blue skirt that has a streak of purple and one of yellow, and a pair of matching slippers/sandals. Her other outfit includes her normal shoes and head piece, but with a pale blue dress with little suns on it.
Merchandise
Edit
Morning Glory Go Go and Luna Lite Night Night BFF Pack. Includes many slumber party, bed time accessories like sleeping bags, alternate outfits, eye masks, a laptop, and much more!