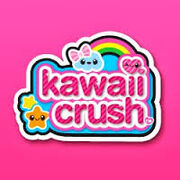 A brand new toy series by
Spin Master,
those responsible for also creating Liv, La Dee Da, Moshi Monsters merchandise, Zoobles, Bella Dancerella and Girl Crush!
Kawaii means "Cute" in Japanese. Everything from Japan has loads of cute smiles such as anime to manga movies and TV shows, clothing and accessories, sunshine, food, stationary, bedding, toys and games plus many more.
History and Information
Edit
Kawaii Crush started to appear in stores in Fall 2013, already coming out with a vast list of merchandise!

In Kawaii Crush World, each girl shares her one true love by expressing it through her pet, fashions, lifestyle and accessories.
As a toy series, Kawaii Crush was made to appeal to anyone (mostly girls) from ages four and up. They come in all sorts of variations, shapes, and sizes. they are small toys.
For more information on the available merchandise, please view it's proper page, Merchandise.
For information about the characters in Kawaii Crush, view: Characters
Originally Kawaii Crush was only intended for girls the ages 12 to 26. Also, they were to come out in 2012.