Welcome to the super cute wikia for the brand new hyper happy toy series: Kawaii Crush!
On this wiki you can learn all about the Kawaii Crush series. Including characters, merchandise, webisodes, and so on.
Do you have anything you wish to add? You could either make a page or add the content but please follow the rules to ensure that everyone has a lovely time. So come on and enjoy all the cuteness with us and have a super sweet day!
What is Kawaii Crush?
Edit
Katie Cat Meow Meow narrated a short video to find out what 'Kawaii' and 'Crush' mean.
http://www.kawaiicrush.com/#video
What is Kawaii?
Edit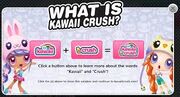 Kawaii means 'Cute'. It comes from Japan. There are lots of super, happy smiles and they can found everywhere on clothes and accessories, cartoon and videogame characters, stickers, music, food, toys and many more.
What is Crush?
Edit
A crush means about someone that you know and love. Every girl in Kawaii Crush world has a crush. It's the one thing that they love most. Can you guess what Owlena Hoot Hoot's crush is? That's right! It's owls. She and her pet owl love singing and dancing all night long and they also love camping outside under the stars to listen to nocturnal animals. It no wonder Owlena loves owls so much that they're such a hoot when she's having the night of life!
Pages of Interest
Edit
Not sure where to begin? Click on one of these base pages to get started!
Please respect your fellow members and be nice to others.
Please do not swear. This wiki is to be for all ages
Do not upload any pictures that is not work safe or may be too mature for younger viewers
Don't spam/flame the wiki, other users, or the articles
If you catch someone breaking one of the rules or has been harassing, spamming, or just making bad changes please inform Chrismh/an admin.