Jamie Framie Pop (Japanese Name: Jeimi Furemu Poppu) 
is a mini
Kawaii Crush
that comes with "Jamie's Sunglass Shop".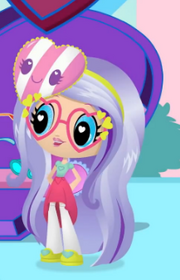 She is an optician themed girl whose colours are blue, yellow, pink and red.
Personality
Edit
Not much is known regarding Jamie's personality yet, but she loves giving advice on her friends to help with their eye contact. Her Sunglass Shop only sells the most adorable glasses and she loves helping them choose the right ones that fit their style. No one loves glasses more than she does!
Appearance
Edit
Jamie is a fair skinned girl with sky blue eyes worn with a pair of hot pink heart shaped glasses with multiple yellow hearts on the corners. She has very dull lilac-blue hair that is about a foot length with a few very long bangs that curl outward, while the rest of her hair simply is worn straight. She has a light green head band with a pink and white striped heart attached. Her makeup is very light.
Jamie wears a blue blouse with a heart in the center and a long deep pale-red skirt that is short in the front and very long and flowing in the back, a bit like a cap. She also wears white stockings and light green flats with blue hearts on the toe.
Her hair appears to be bluer and more curly.
Her glasses are translucent florescent yellow.
Shoes have pink hearts instead of blue.
Merchandise
Edit
Jamie's Sunglass Shop - Comes with 13 funky-cute pieces! Including Jamie, a cash register, her shop, and multiple pairs of glasses for all mini Kawaii's.
"I <3 glasses!"
"My frames bring me fame so I guess that makes me frame-ous!"
"It's a sight to see!"
Originally Jamie wore hot pink and yellow sunglasses with a yellow, pale pink, and white headband. The hearts on her shoes were blue. Also note that the sunglasses that come with the set are different and she does not come with stickers anymore.