Hannah Banana Nom Nom (Japanese Name: Han'na Banana Nomu Nomu) 
is a mini doll and one of the characters in
Kawaii Crush
. She is a monkey themed girl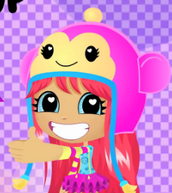 whose theme colors are fuchsia pink, pale yellow, and blue.
So far, she is one of the two, out of six animal girl dolls not to be a main character as of yet. The other being Chilly Milly Yip Yip. However, both have recently been released as dolls.
Personality
Edit
Hannah can usually be seen laughing off and goofing around. Much like the animal that she is based on, she happens to really like bananas and can be seen climbing trees and hanging upside down from them, in order to snatch them up!
She also plays her keytar in the band with Sunny Bunny Hop Hop and Chilly Milly Yip Yip.
Appearance
Edit
Hannah is a fair-tan skinned girl with very light iced blue eyes and long flowing, soft and right-sided red hair, with a few spikes curving towards the right and has neat bangs that are mostly tucked underneath her trademark monkey hat that is fuchsia pink with a pale yellow face. Blue strings line the detailing of the hat and dangle with little yellow bananas.
She wears a bright blue top with a monkey face surrounded by little bananas on it attached with bright pink and pale yellow striped sleeves, a pink two-layer frilled skirt held with yellow overall straps, and a pair of low sky blue socks with monkeys on each toe.
In the webisodes, Hannah's outfit was slightly different. Her outfit is relatively the same, but her sense of laughter fills the air with banana skins after she eats the insides of the bananas and then puts them in the bin.
Hannah's pet is a light purple-fuchsia monkey with very pale white-pink face, tummy, and tips of feet.
It plays the cymbals in the band with Chilly Milly's penguin and Sunny Bunny's bunny. It loves to eat bananas the most, but it can be found laughing off and goofing about like her.
Merchandise
Edit
Hannah Banana Nom Nom Mini Doll.
"I <3 monkeys so much that I'm always monkeying around, swinging from one adventure to another."
"Even my pet monkey <3s to dress in matching hats, but most of all it <3s eating bananas just like me!"
"Can't you tell that I'm going bananas?!"
Her doll's hair is the same as Netty Betty Creamy Crunch and Morning Glory Go Go.