Chilly Milly Yip Yip (Japanese Name:Hadasamui Miri Ippu Ippu) 
is a mini doll and one of the characters in
Kawaii Crush
. She is a penguin themed girl whose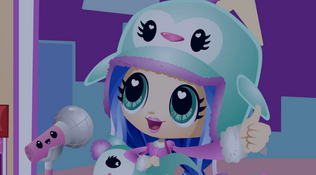 theme colors are lilac, white, and very dull blue.
So far, she is one of the two, out of four mini dolls not to be a main character to be named as of yet. The other being Hannah Banana Nom Nom.
Personality
Edit
Chilly loves playing in the snow all winter long. Her favourite activities are ice skating, snowboarding, skiing, hokey, tobogganing, sledging and many more. Also she and her pet penguin love making snow angels, having snowball fights or even building snowmen. Even when they're dressed up in warm and toasty coats with hats, scarves, gloves and boots, they're always up and ready to have some cool, wintery adventures.
Appearance
Edit
Chilly is a pale-fair skinned girl with big teal colored eyes and pinkish lips. Her pale, watery-blue hair is very long with penguin themed hairbands securing her braids underneath of a pale blue penguin oriented cap with lilac fuzzy lining and purple pom poms that dangle on strings and they sway loosely at her sides.
Chilly wears a purple sweater-dress with fluffy white lining, and dull blue boots with fluffy lining and purple penguins on each toe.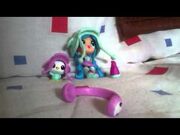 Chilly's pet is a very dull blue and white penguin with a pale gold beak and feet.
It was shown playing the triangle from Stop the Panda-monium! and what it loves the most is eating fish.
Merchandise
Edit
Chilly Milly Yip Yip Mini Doll ♥
"I <3 penguins!"
"Just like the snowbirds, I'm always active."
"Even the cold weather can't slow me down!"
"You can find me with my pet penguin enjoying some winter fun."
Chilly's second name 'Milly' is misspelled 'Millie'.