Becky Bubble Swim Swim (Japanese Name:Bekki Baburu Suimu Suimu)
 is a mini
Kawaii Crush
that is part of the "Bubbly Beach" Mini line.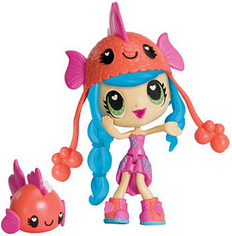 She is an angel fish themed girl whose theme colors are orange and pink.
Personality
Edit
Becky loves swimming all summer long and much like the fish that she's based on, she'll just keep on swimming more and more and more. Also she likes to take a break and relax at the beach.
Appearance
Edit
Becky is a fair skinned girl with green eyes and sea-blue hair worn in a low, right-sided ponytail that is singly segmented with very dull, iced blue hairbands securing it with curved bangs and curly strands hanging loose. She wears an orange angel fish hat with pink fins and bubble shapes on the end of the strings.
She wears a pink dress with purple markings on it, with a pink and orange pair of boots with blue bottoms.
Merchandise
Edit
Becky Bubble Swim Swim Mini - Comes with a headband, an orange drink, a little angel fish pet, and an orange and blue themed cooler.
Becky has a pet angel fish that is orange with pink detail on its fins and tail.
"It's no wonder I <3 angel fishes so much that I have a heavenly crush on them!"
"I love swimming in the ocean with my bubbly buddies and after a long day, I like to chill out at the beach snack shack."
She is the only animal themed character not included in the animal theme line. Unless the misc "Ladybug Girl" is counted.